Shopping Cart
Your Cart is Empty
Thank you for your business!
You should be receiving an order confirmation from Paypal shortly.
Exit Shopping Cart
AKC Golden Retrievers are the only dog we breed. The dogs on our farm are not kept locked in a kennel 24/7. Like our old boy Duke now carrying his favorite sticks in heaven. Our current dogs all enjoy a romp on our 10 acres and visiting the chickens, horses and goat. Not to mention sunning with the cats.
Our dogs are raised with the love an attention that comes with being family. Puppies are always raised in the house where they can be cuddled from birth and be part of the family and exposed to household noises as well as the Macaw and other pets. We also play what we call the puppy party mix. Its a collection of various sound effects such as buses, sirens, jack hammers, the things they are unlikely to hear on our farm. While everyone ohs and ahs a show dog trotting around the ring when it's won the show. It is the family dog that is by far the most popular dog in the world! Our dogs are meant to be family pets first and foremost. We have bought the best field bred dogs we can afford, and sometimes really can't but do anyway! A field bred dog has a coat that is easier to manage and while they may have an occasional white bar on their toes or a blaze. They come from long lines of titled hunters, who have proven they will work with a human partner. We have insured that we have the widest gene pool possible. We start handling our puppies at birth and by the time they are ready for their own homes they are cuddle-holics. We raise one breed and one breed only, Golden Retrievers. We are not a multi-breed commercial operation. We do not turn out hundreds of puppies a year. We only have puppies when we can give them the attention they deserve and have parents that have cleared their health screening. No dog either would be mommy or would be daddy is bred before their second birthday and they have cleared their OFA hip and elbow exams as well as had their DNA tests for hereditary problems that affect the breed. Healthy parents = Healthy puppies. Something everyone should appreciate. Yes you can buy a golden for as little as $300. BUT they won't come with the paperwork saying their parents are clear of PRA, PRA1 or PRA2 that leads to blindness. Our puppies enter the world with a health background we can confidently back in writing.
Located in the panhandle of Nebraska we have open spaces, fresh air, and plenty of room for our dogs and the other critters who have moved onto our little 10 acres we call Loose Ends Place. Anyone whose ever bought an older home knows how there is always some loose end that needs fixing with a pre ww2 home..
While serving in the military for 28 years we got into dogs with a pair of American Cocker Spaniels that we trained and entered in obedience shows getting a CD and then CDX. Retired now we fell in love with Golden Retrievers and decided they were our breeed It has been slow going but in the end we have collected a solid breeding mix from dogs that go back several generations free of HD. With an under 10% inbreeding coefficient to provide the widest possible gene pool to draw from, we breed only one or two litters a year. We don't consider ourselves a kennel, though as we recently found out the state does!(just takes 4 intact dogs in Nebraska) Hence the changes in our little web site. Instead our dogs are family, they live in the house, they play with the grandkids, they go out to check on the horses or goats with us. They love riding into town and visiting the feed store when we go to pick up supplies. They really I mean REALLY like the drive up teller at the bank! She gives them doggy treats. They have kennels for when non doggy people visit. But at this moment I have a little Papillion sleeping in his bed on my desk, and a senior golden sleeping under my desk while 2 others are hoping husband drops something while making lunch in the kitchen. Our goldens are family, and we hope the puppy you adopt will be family too.
We breed only OFA certified parents.
All our dogs are genetically tested for
known inheritable disorders before being
bred. We use only labs that are
recognized by the OFA.
All our dogs are genetically tested for
known inheritable disorders before being
bred. We use only labs that are
recognized by the OFA.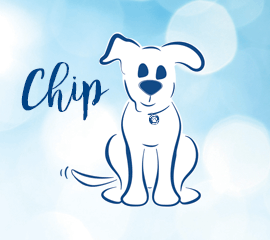 All our adult dogs and puppies are
microchipped thru the AKC. This
provides permanent identification for all
genetic and orthopedic medical testings.
It also identifies the parents of puppies
and the puppies themselves when they
are chipped to insure the right puppy
goes to the right family. We can not
stress enough the importance of
registering your puppy in your name
when you take him home.
/